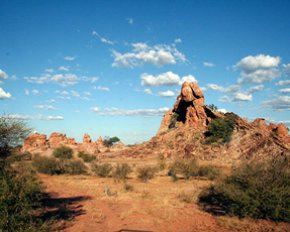 browse (1 / 3)
Diverse, undisturbed and intriguing, Botswana offers an extraordinary African experience presenting visitors with an unforgettable wilderness, abounding wildlife, fascinating waterways, enormous desert dunes, and curious topography features.
4x4 to Solomonís Wall in the Tuli Block region of Botswana fondly referred to as ďThe Land of the GiantsĒ. A voyage by 4x4 to the Tuli Block will awaken the explorer in all discovering the mesmerizing natural beauty, imposing rocks formations, strange vegetation, abundant wildlife, and prolific bird life. Solomonís Wall is a captivating stark basalt dyke caused by erosion from the Motloutse River and towers up to 30 metres high guarding the narrow gorge.
Stay at private concessions and reserves offering bush camps, chalets, tents, and luxury eco-lodges from where expert guides will accompany guests and share their specialised knowledge of the regionsí treasures. 4x4 to Solomonís Wall over diverse and picturesque landscapes, feel the overwhelming admiration for the wonders of nature as you get closer to the phenomenal balancing rock protrusions. Drive through sandy riverbeds framed by fever trees, take in the awe-inspiring environment and scenery, and catch a glimpse of the dazzling display of wildlife roaming the area.
View the striking stone ruins of Solomonís Wall, climb the hills to explore the amazing San rock art, discover scattered artefacts at the numerous archaeological sites dating from the Stone Age, and walk along the riverbed where a number of semi-precious stones which includes quartz and agate can be found. Relax at the foot of the outcrops and listen to the sounds of the rich bird life while having a picnic. A 4x4 trip to Solomonís Wall is an inspiring journey where the ancient rock formations speaks to your soul and enchants your heart and visual senses.