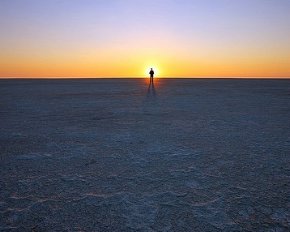 browse (1 / 3)
A timeless land of enduring elegance and contrasting scenery awaits adventurous travelers to the Makgadikgadi Salt Pan, one of the largest in the world of its kind. The Makgadikgadi Lake is a legendary ancient lake that dried up 10 000 years ago. In the dry season, be awed by a timeless landscape filled to the brim with nothingness … Explore this land by 4x4 or go on a 4x4 quad bike adventure into the salt pans, exploring Iron Age sites where bushmen once made this unforgiving environment their home.
The Makgadikgadi National Park is where you will find the salt pans. Camp on hills that overlook the vast, empty plains and view the world's largest salt pan in Makgadikgadi. During the onset of the rains in mid-November, witness one of the most awe-inspiring spectacles in the migrating herds of wildebeest and zebra, sure to take your breath away. During the rainy season, see the Makgadikgadi transformed into a water wonder world teeming with migratory water birds, zebra and wildebeest.
View the world's largest salt pans at Makgadikgadi and be swept away by breath-taking scenery and big blue skies. The quietness of the pans as well as the vast, open space transport you to a place where time and space are so prevalent, they seem to have ceased to exist since they are not important. The watering holes and lakes are a magnet for wildlife, making the Makgadikgadi an ideal place to watch birds and animals.