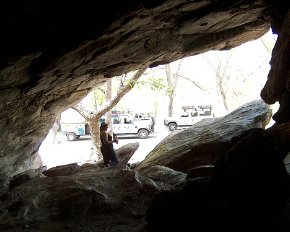 browse (1 / 3)
An exciting and all-adventure destination awaits you in the form of Botswana. Renowned for its beef and diamonds, this peaceful Southern African country is blessed with incredible beauty, unrivalled hospitality and an endless array of attractions to visit. Overseas visitors arrive here in their droves looking to get back to nature and to get away from the congested chaos of modern day life. Botswana is ideal for family trips and promises to leave you breathless and in anticipation of the next adventure. It is home to international treasures such as the Kalahari Desert and Okavango Delta and offer the most incredible safaris on the continent. Visitors will be enthralled by the magnificent sightings of the Big 5 and will fall in love with the majestic flora and unparalleled scenery they will find themselves surrounded by.
One of the remotest destinations in Botswana is certainly the Gcwihaba Caverns. 50km east of the Aha Hills, Gcwihaba Caverns are beautiful caves set amongst undulating Kalahari Dunes. Not for the faint-hearted and only accessible by means of a 4WD, the meaning of the name when translated is 'Hyena's Hole', and was first brought to European attention in the 1930s, when the !Kung tribe showed them to Ghanzi farmer, Marthinus Drotsky.
Gcwihaba Caverns is for those seeking an adrenaline rush as it is filled with pure excitement. The caves are a labyrinth of linked passages, separated by two floors. Its stalagmites and stalactites were all carved and formed by dripping water, which dissolved into dolomite rock. The Caverns contain stunning colours, bizarre rock formations, 'frozen' waterfalls, flowstones and hallways. Despite its challenges and remoteness, a trip to Gcwihaba Caverns is a very worthwhile and enriching experience.