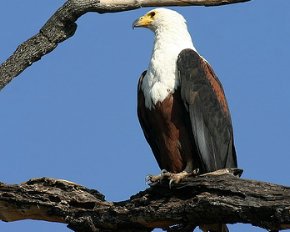 browse (1 / 3)
Be transported to a world of rolling red sands and tall sand dunes when you visit the Kalahari Desert in Botswana. Ostriches appear on the horizon as you adventure into the mirage-filled plains of the desert on one of many hikes, or with a bushman as your guide. The desert teems with birdlife – the Kalahari Desert is a birdwatcher's paradise. With the beautiful, yet harsh desert as a background, take advantage of the opportunity to see more than 100 species of birds, including a few water-specie birds.
Wonderful birds of all shapes and sizes call the desert home. Among them, see double-banded coursers, larks, finch larks (sparrow larks), several chat species and the African (grassveld) pipit. Learn more about how these fascinating creatures survive in such an unforgiving environment. Be awed by a great deal of birds of prey, including more than 20 larger raptor species. As an added bonus, look out for game such as elephants and bufalloes.
The birds of the Kalahari are protected by National Parks, as well as conservation societies and organizations. Go on an afternoon bird watching hike or if that doesn't take your fancy, take a twilight or dusk drive. Crown your day with a lovely meal and sundowners at your luxurious camp, recalling your day's encounters and sightings of Botswana's' exquisite bird world. Other activities you should take advantage of include walking with bushmen through the desert, 4x4 quad biking safaris, open Lancruiser game drives at night, and the best scenery in the world.