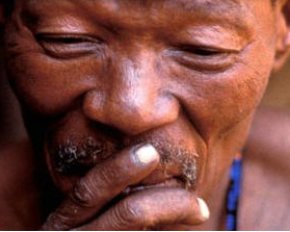 browse (1 / 3)
Take a trip to the famous Kalahari Desert in Botswana and witness a culture of people known as the San or Basarwa (commonly known as bushmen), where you will experience an unreal world, with the San as your welcoming hosts. The San have been residents of this wonderful part of the world for centuries, hunting and gathering, raising their children, almost undisturbed by modern life buzzing around them.
Let the San take you into their simple, yet interesting lives and show you how they live, from their saintly methods of stalking game to climbing into giant trees to collect wild fruit. Game walks with bushen trackers bring you closer to these warm and friendly people that will hide nothing from you, inviting you to join a chorus of clapping and singing around a fire. Take advantage of this unforgettable opportunity to observe a Shaman ( priest) going into a trance, talking to unseen spirits.
Go on a walk with bushmen trackers and be show the tracking and hunting secrets of one of the world's oldest cultures. Your tracker will show you the purposes of some plants; from culinary to medicinal uses. Watch these skillful hunters prepare bows, arrows and quivers, leaving you in awe of their capability. Women of the village will show you how to prepare their bush food, as well as teach you how to make their beautiful, traditional jewellery from ostrich eggs and seeds. As the evening draws in and the wonderful desert sun sets, you will be whisked off to your comfortable camp for a delicious meal and good night's rest, in anticipation of another day of adventures with the San.