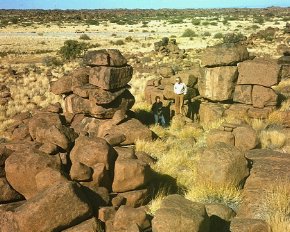 browse (1 / 3)
The Tuli Block, Botswana, is known for its arresting topography which includes the archaeological treasures of Solomon's Wall, Tswapong and Lepokole Hills.
See the archaeological treasures in the Lepokole Hills situated approximately 25 kilometres north-east of Bobonong. Lepokole Hills are made up of immense granite blocks piled high to form tall castles of fissured rock formations. It is in these hills that the last of the San people took refuge to escape modernization and preserve their rich heritage. There presence is marked by authentic rock art found in the caves and rocky outcrops. In addition to the beautiful rock paintings the Lepokole Hills is a treasure chest of archaeological wealth which can still be found scattered amongst the hills. Explore the hills revealing a profusion of Stone Age tools, ancient pottery, stone walls and mud granaries which is clear evidence of earlier occupation.
Private game reserves and concessions dot the Tuli Block but there are no campsites and facilities in the Lepokole Hills, therefore visitors should be self sufficient and obtain basic supplies in the village of Bobonong before starting the 4x4 trip into the hills. Visitors wishing to camp in the Lepokole Hills area could ask permission from the village chief in Bobonong. Apart from the amazing scenery and archaeological wonders of the Lepokole Hills, the area is home to a variety of game and bird life. Walking tours is the ideal way to discover the abounding array of interesting plant life. Lepokole Hillsí stunning topography and precious cultural heritage is well worth the trip.